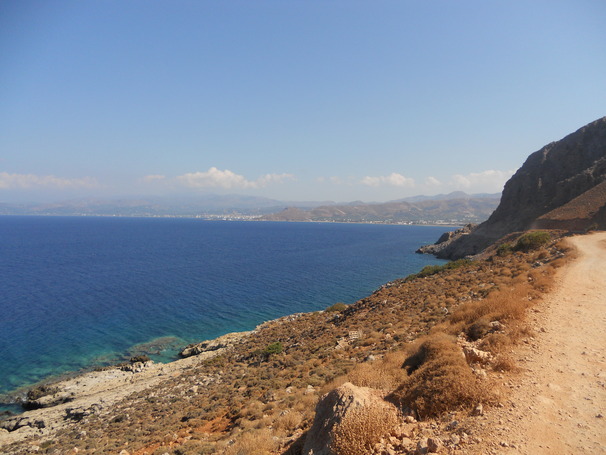 Balos Beach is located on the northwest part of the peninsula of Gramvoussa, Balos beach is a real, unique tropical lagoon beach in northwest Crete.
The lagoon-beach of Balos has white and pink sand, from the countless shells of the area. The water is warm and calm. Even further from the lagoon to Balos beach, the sea is calm, as Gramvousa protects the bay of Balos from strong winds.
In the area of the lagoon and the beach of Balos, there are no trees.
Balos Lagoon
The Balos is in the northwestern corner of the island of Crete, to the west of the peninsula Gramvousa. It is approximately 55 kilometers northwest of the city of Chania and 17 km northwest of Kastelli. The beach of Balos has white and turquoise shallow waters, and white sand, and in many places, the sand is pink because of the millions of crushed shells lying at the bottom. Balos Beach is ideal for small children as the water is shallow and warm. Outside the area of rocks that define this exotic lagoon, the water is deep and colder, ideal for lovers of the mask! The Balos like the exotic beaches of the Pacific, and for this reason the summer months thousands of visitors. The balls and the surrounding area have joined the network protection Natura, because of the beauty of the area and the lagoon, and because of the rare species of flora and fauna. In Balos refuge turtle Caretta Caretta and the Mediterranean monk seal, and many species of rare birds. To visit the beautiful balls will need to get the boat from Kastelli. The route is very beautiful, as the boat passes through the wild coast of Cape Gramvousas and makes a stop to swim on the exotic beach of Gramvousa. The trip by boat is about half an hour. Also, if you do not want to reach through Balos sea, you can go drive through a bad dirt road that starts from Kasteli and continues along the Verde Gramvousas until just before reaching the beach of Balos, and from there continue through a path walk for about 25-30 minutes. The view over the balls is magnificent!
creterentcars.gr
Photo Gallery