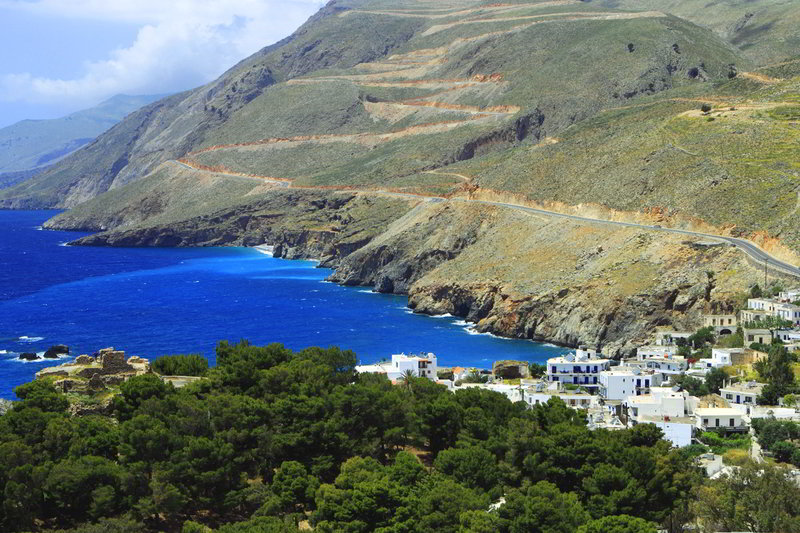 The seaside village of Loutro is located on the west of Crete south of the city of Chania, in Akrotiri Mouri. It is built over the ancient city "Phoenix", the port which was a port for the ancient city "Anopoli". The port of Bath is very safe, as the enclosed bay and an island in this entry, create a natural harbor where boats can hang out even in bad weather. The village is so named because of the baths found in the area, which are created by the Romans, in their wake, and even today many parts of bodies are preserved in very good condition.
The Bathroom has two beaches. A small beach in front of the village and a larger one east of the village, called "Keramos", which is ideal when the south wind blows in the area. Both these beaches are pebble. The waters are turquoise and crystal clear, and almost always calm. Both beaches are organized with umbrellas and sunbeds.
From Loutro you could also visit either by boat or on foot, the surrounding beaches. The "Glyka Nera" east of Bath and the pebble blue beaches "Holy Cross" and "Pervolaki" are located about 1km east of the village, just before the beach "Glyka Nera". Still, having its Loutro you can visit the beaches of the "Wolf", the "Phoenix" and the beach "Marbles". From Loutro daily boat leaving for the beaches "Sweet Waters" and "Marbles". The walk to the beaches is quite difficult, while the boat access is much easier and takes less time.
In the Bathroom, you could also visit Koules village, built-in 1868 and located on a hill north towards Anopolis, next to the church of St. Catherine. You can also see the remains of a Turkish castle above the current settlement of the village, which once dominated there, and now preserved only some of the walls.
Located in the charming village of Loutro rooms for rent and taverns with fresh fish! It is ideal for those seeking peace and relaxation! Access to the village is mainly by sea, by boat from Chora Sfakion, Agia Roumeli, Paleochora, and Sougia. But for lovers of trekking, access can be done through Sfakia or Anopolis, with about 1.5 hours quite difficult hike by both parties.
creterentcars.gr
Photo Gallery