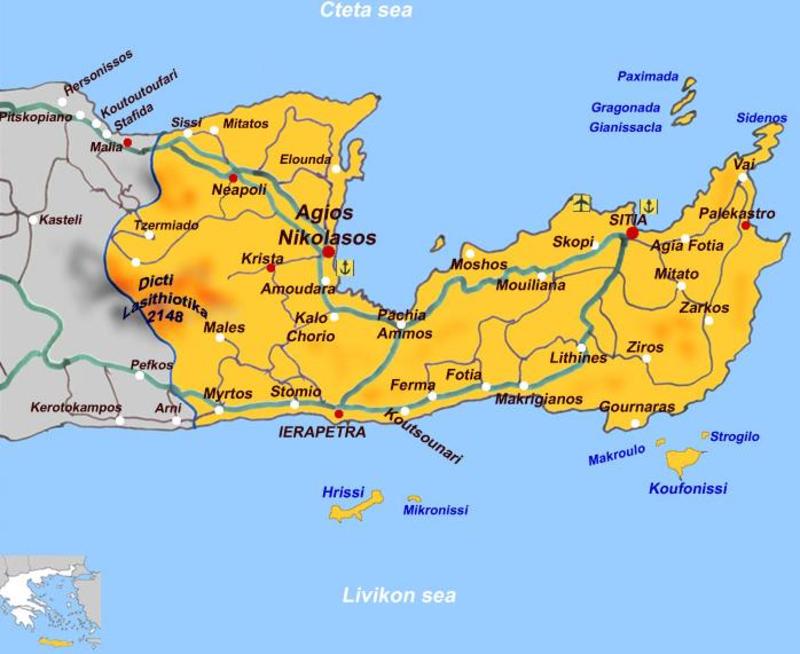 Brief History of the Prefectur of Lasithi-Agios Nikolaos
For Lasithi as for the rest of Crete we have recorded history and traditions of the Neolithic epochi.Opos throughout Crete and Lasithi met all the conquerors of Crete (Venetians-Aravbs-Toukises.).
The picturesque and charming town of Agios Nikolaos stretched around Voulismeni Lake and northwest of the Gulf of Mirabello is the capital of the prefecture.
Agios Nikolaos there are two interesting museums with rich exhibits, an archaeological and a folklore.
Very close to Agios Nikolaos is a cosmopolitan Elounda built on the ruins of ancient Olountas.Apenanti from Elounda is known to us all the sanatorium of Spinalonga Leper
Moving east we find the amphitheater built Sitia, almost on the ancient county (the ancient port Praisian). Very beautiful and romantic city with its narrow streets and the magnificent sunset.
To the south of the county is another town of Ierapetra Lassithi with its Venetian fortress Kale. The Square Ottoman is the school that houses the collection of archaeological evrimaton.tou county.
The famous beach of Vai Lasithi is the Makrigialos beaches and other amazing even for the most demanding guests.
creterentcars